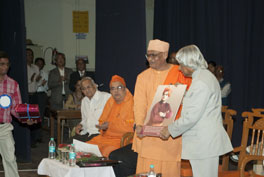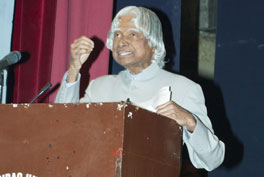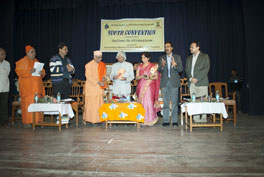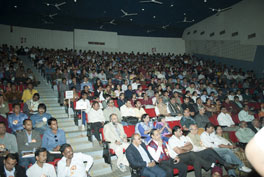 Dr.A.P.J. Abdul Kalam, the former President of India urged upon the youth to follow the message of Swami Vivekananda of Self Confidence, courage and integrity for achieving success in life. He told them that, "Small aim is a crime" and urged them to work hard. He was addressing a large number of youths present during the Youth Convention organized by Ramakrishna Mission Vivekananda Memorial, Vadodara on January 18, 2012 at C.C. Mehta auditorium, Vadodara ( Gujarat ) , as a part of 150th birth anniversary celebration of Swami Vivekananda. After his inspiring speech, he replied to a few interesting questions – what was the most memorable experience of his life, what inspiration he derived from Swami Vivekananda, whether students should join politics after the studies or not, etc.
He also launched the scheme of 'Vivekananda Centres of Positive Thinking and counselling' to be started in the educational institutions of Gujarat by releasing the Information Brochure. The youths took the oath of dedicating their lives for protecting the environment by planting trees, serving underprivileged people and serving the nation as per the direction of Dr. kalam. They enthusiastically repeated with Dr. Kalam – "I will fly, I will fly, I will fly."
Earlier, Swami Nikhileswarananda, the Head of Vadodara centre of Ramakrishna Mission welcomed the dignitaries and expressed his joy that Dr. Kalam having a positive bent of mind was launching the scheme of starting 'Vivekananda Centres of Positive Thinking and Counselling'. He further said that Dr. Kalam was the right person to address the youths during 150th birth anniversary celebration of Swami Vivekananda, since he loves youths and has a dream of a developed India just as Swami Vivekananda loved the youth and had a dream of a glorious India – more glorious than she ever was in the past.
Swami Sarvasthananda, Adhyaksha, Sri Ramakrishna Ashrama, Rajkot proposed the vote of thanks. The programme ended with national anthem.
Dr. ( Smt.) Jyotiben Pandya – Mayour of Vadodara, Dr. Yogesh Singh – Vice Chancellor of the Maharaja Sayajirao University of Baroda, Shri Vinod Rao – I.A.S. District Collector, Vadodara, Shri Ashwini Kumar – I.A.S., Muncipal Commissioner, Vadodara and many other dignitaries and Principals, teachers and students of about 50 educational institutions remained present in the function.
The DVD of the function is available in the Book Sale Section of Ramakrishna Mission, Vadodara. (web:rkmvadodara.org).
Please contact : [email protected] for getting DVD or further information