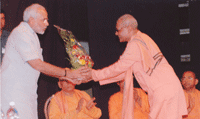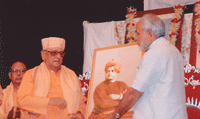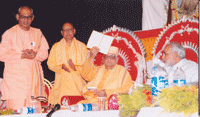 The historic Dilaram Bungalow, sanctified by the stay of Swami Vivekananda as a guest of the then Dewan of Vadodara in 1892, was formally handed over by the Government of Gujarat to the Ramakrishna Mission on the auspicious Ramanavami day of Monday 18 April 2005. In a grand function held at the Gandhi Nagar Sabha Gruh, Vadodara in the evening the Chief Minister of Gujarat Shri Narendrabhai Modi handed over the keys of the historic Dilaram Bungalow with the official documents to Srimat Swami Atmasthanandaji Maharaj, Vice-President Ramakrishna Math and Ramakrishna Mission in the presence of a large number of Government officials, distinguished citizens of Vadodara and other invited guests. The Bungalow has been handed over to the Ramakrishna Mission on 30 years' lease at a token rent of Re.1/- for converting it into a befitting memorial of Swami Vivekananda and a new branch centre of Ramakrishna Mission has been started named as Ramakrishna Mission Vivekananda Memorial, Vadodara.
The day long celebration to commemorate this great and historic occasion began with mangalarati in the morning in the newly set up shrine with pictures of Bhagavan Sri Ramakrishna, Holy Mother Sri Sarada Devi and Swami Vivekananda. This was followed by Puja and Special Homa conducted in the holy presence of Srimat Swami Atmasthanandaji Maharaj, Srimat Swami Shivamayanandaji Maharaj, Asst.Secy, Ramakrishna Math and Mission, Swami Adibhavanandaji, Swami Dhruveshanandaji, Swami Nikhileshwaranandaji, heads of the Limbdi, Rajkot and Porbandar centres of Ramakrishna Math and Mission and other guest Swamijis and a large number of devotees and friends. More than 400 devotees took noon prasad after the Homa.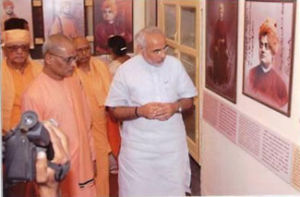 At about 6.30 p.m. Shri Narendrabhai Modi, Chief Minister of Gujarat, inaugurated the Exhibition of the 36 large-sized photographs of Swami Vivekananda with a brief history of the photos given below, in the august presence of Srimat Swami Atmasthanandaji Maharaj, Rev. Swami Shivamayanandaji Maharaj and other monks and devotees. The function of handing over the Bungalow at Gandhi Nagar Sabha Gruh began at about 6.50 p.m. with Vedic Chanting by monks of The Ramakrishna Mission.
This was followed by welcome address by Swami Nikhileshwaranandaji, who in his address said among other things that this was indeed a thrice blessed day for the city of Vadodara and appealed to the people of Vadodara to render all possible help for the spiritual, cultural, educational, medical and welfare activities that will be undertaken through this branch centre – keeping in view the message of Swami Vivekananda of worshipping the divine in human beings. He also said that this great dream was fulfilled through the constant inspiration and blessings of Srimat Swami Atmasthanandaji Maharaj and the untiring efforts of Shri Narendrabhai Modi and the other administrators of the Government of Gujarat and numerous devotees and friends. Srimat Swami Shivamayanandaji Maharaj then read out the messages of Srimat Swami Ranganathanandaji – Most Revered President Maharaj of the Ramakrishna Math and Ramakrishna Mission and Swami Smarananandaji Maharaj, General Secretary of the Ramakrishna Math and Mission.
Revered Swami Shivamayanandaji said in his address to the gathering that Vadodara, the great cultural city that it is, is very fortunate to have a fitting memorial in the name of Swami Vivekananda who blessed this city during his Parivrajaka days.
Swami Adibhavanandaji, head of Ramakrishna Mission, Limbdi in his address appealed to the people of Vadodara to come forward and co-operate with this newly established branch centre of the Ramakrishna Mission to spread the man-making and character building education of Swamiji throughout this region.
Shri Narendra Modi, the Chief Minister of Gujarat in his inspiring address said that it was his good fortune to be an instrument in the noble cause of dedicating this historic Dilaram Bungalow associated with the great patriot prophet of India Swami Vivekananda by handing over the keys of this building to His Holiness Srimat Swami Atmasthanandaji Maharaj with whom he had the great fortune to be associated since his student days in Rajkot. He said that Swami Vivekananda's divine personality and message will continue to inspire countless people especially the youths as his message is timeless. He also expressed his firm conviction that every inch of this holy Memorial will be utilised by the Ramakrishna Mission founded by Swamiji himself to spread the eternal message of India.
He further explained that Shri Ramakrishna and Swami Vivekananda's message of 'Shiva Jnane Jiva Seva' (worshipping the human beings as veritable manifestation of the Divine) has inspired countless people all over the world and he believed that this centre too will carry on this great tradition. He said that this great cultural city of Vadodara will benefit greatly by this Memorial and its service activities. He also requested the people of Vadodara to visit the newly inaugurated exhibition of photographs of Swami Vivekananda and draw inspiration by feeling his divine presence there.
Srimat Swami Atmasthanandaji Maharaj received the documents and the key of Dilaram Bungalow from Shri Narendra Modi and in-turn handed them over to Swami Nikhileswaranandaji, who has been appointed the head of the new centre of Ramakrishna Mission of Vadodara. Revered Swami Atmasthanandaji Maharaj released the Information Brochure entitled 'Swami Vivekananda at Vadodara' symbolizing the starting of a new centre of Ramakrishna Mission at Vadodara and felicitated the Chief Minister and dignitaries sitting on the dais – Smt Mrunalini Puar, Chancellor of M.S University, Vadodara, local MP, local MLAs, District Collector and Commissioner of Police by gifting to them photographs and books of Swami Vivekananda. Srimat Swami Atmasthanandaji Maharaj in his brief but highly emotional Presidential speech said that his heart was filled with such a great sense of joy that he found it difficult to express it in words. He prayed from the bottom of his heart to Bhagavan Sri Ramakrishna, Holy Mother Sri Sarada Devi and Swamiji to bless this historic memorial of Swami Vivekananda to enable it to serve the people of Vadodara and Gujarat for their all round welfare. Swami Dhruveshananda, head of Shri Ramakrishna Ashrama, Rajkot proposed the vote of thanks and express his gratitude to all those who had made the establishment of this great Memorial to Swami Vivekananda possible by their strenuous efforts and those who were instrumental for the success of the function.