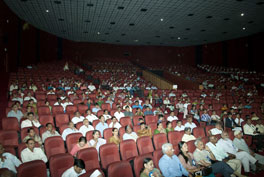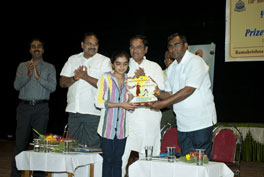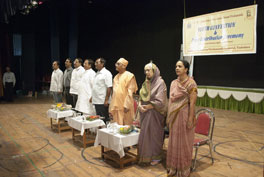 Govt. of Gujarat to Celebrate the 150 th Birth Anniversary of Swami Vivekananda. 54,840 students of Std. 8 to 12 of 1066 schools of Gujarat enthusiastically participated in the State Level written Quiz Competition on the life of Swami Vivekananda organised by Ramakrishna Mission Vivekananda Memorial, Vadodara. The Prize Distribution Ceremony took place on February 21, 2012 at Sir Sayaji Nagargruh, Vadodara in the presence of a large number of dignitaries, teachers, parents and students. Top 3 of the State and top 3 of 27 districts (total 88 students) were given prizes in the form of memento, and books of Swami Vivekananda by Shri Ramanlal Vora, Minister of Education, Govt. of Gujarat, Shri Jitendra Sukhadia, Minister of State for Tourism, Food and Civil Supply, Govt. of Gujarat, Shri Balkrishna Shukla, Member of Parliament, Vadodara, Dr (Smt) Mrunalini Devi Puar, Chancellor , Maharaja Sayajirao University of Baroda, and Dr (Smt) Jyotiben Pandya, Mayor of Vadodara.
Shri Ramanlal Vora, Minister of Education informed the audience that the Govt. of Gujarat has declared this year as Youth Year to celebrate 150 th birth anniversary of Swami Vivekananda on a large scale and many interesting and inspiring programmes will be organised by Govt. of Gujarat for the students in collaboration with Ramakrishna Mission round the year. He congratulated the youths for showing interest in reading the books of Swami Vivekananda and congratulated Ramakrishna Mission for undertaking such a noble scheme of organising Competition on such a large scale, which will go a long way in building the character of students.
Shri Jitendra Sukhadia, Minister of State for Tourism, Govt. of Gujarat gave details of the programmes of Govt. of Gujarat to be organised to celebrate the 150 th Birth Anniversary of Swami Vivekananda viz, organizing Ratha Yatra covering the places visited by Swami Vivekananda during his parivrajak days, organising Public Meetings, and Youth Conventions, installing a statue of Swami Vivekananda at Somanath etc. For which state level, district level and taluka level Committees have already been formed.
Earlier, Swami Nikhileswarananda, the Head of Vadodara Centre of Ramakrishna Math and Ramakrishna Mission welcomed the guests and the students and urged them to visit the historic Vivekananda Memorial sanctified by the stay of Swami Vivekananda in 1892 and said that the purpose of organising the competition for students was to acquaint them with the inspiring life of Swami Vivekananda so that they could build their character along with career leading to national reconstruction.
Swami Vedasarananda, proposed vote of thanks.