Students urged upon to follow the teachings of Swami Vivekananda to Make India Great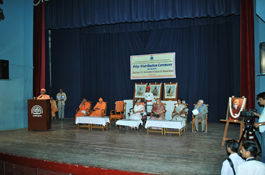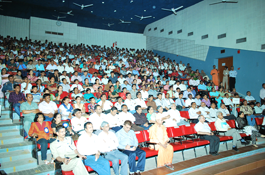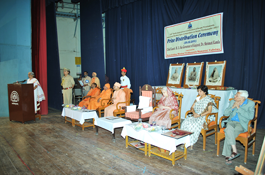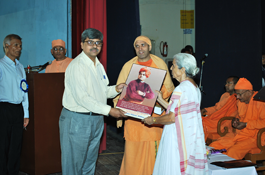 H.E. the Governor of Gujarat, Dr.Shrimati Kamla urged upon the students to follow the teachings Swami Vivekananda and make India great in every respect, while addressing a gathering in the CC Mehta auditorium packed to full capacity in a function organised on 28/2./2011 by Ramakrishna Mission Vivekananda Memorial, Vadodara for distribution of prizes to the top three competitors of 27 districts of Gujarat (92) and their schools (92) who had become winners in the State Level Written Quiz Competition on Swami Vivekananda. Swami Nikhileswaranandaji, Secretary of Ramakrishna Mission Vivekananda Memorial in his address of welcome gave the details about the competition and said that this competition was organised as a part of 150th Birth Anniversary Celebrations of Swami Vivekananda in order to encourage the students to read the books of Swami Vivekananda so that they could receive inspiration to build their own character and dedicate themselves for the service of the nation. 34,267 students of 8th to 12th std. of 733 schools of 27 districts of Gujarat irrespective of caste, creed or religion participated in the competition in Gujarati or English.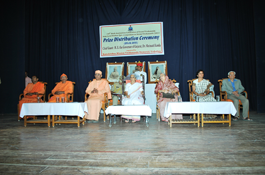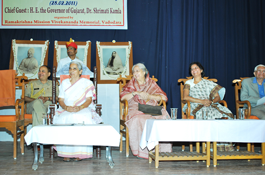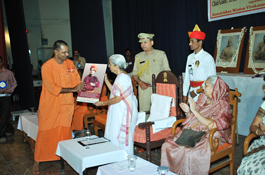 The school level competition was organised on 31/1/2011 and district level competition for the toppers of the schools was organised on 8/2/2011. All the participants were gifted a copy of the book 'A short life of Swami Vivekananda' and all the toppers of school level competitors (733) and their schools (733) were given prizes in the form of books on value education. Apart from this, 50 students of various districts were given consolation prizes and 22 schools that encouraged more than 200 students from their schools to participate in the competition were also given prizes. Thus the total number of prizes was 1720. All the successful participants will be given certificates.
Dr. Smt. Mrunalini Devi Puar, the chancellor of the Maharaja Sayajirao University of Baroda, Dr. Jyotiben Pandya, Mayor of Vadodara, Shri Kantisen Shroff, well-known Philanthropist, Dr S.P Chaudhury, DEO, Vadodara, and Shri Naishad Makwana, DEO, Patan also remained present and distributed the prizes.Swami Adibhavanandaji, Secretary, Ramakrishna Mission, Limbdi, in his speech pointed out how Mahatma Gandhi and other patriots derived their inspiration from the books of Swami Vivekananda. Swami Dhurveshanandaji, Adhyaksha, Ramakrishna Ashram, Rajkot, proposed vote of thanks.