"Human Rights of Underprivileged People should be Protected" -Shri P N Bhagwati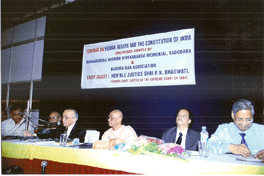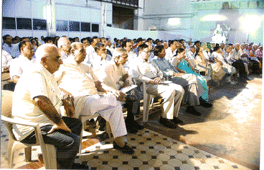 Shri P N Bhagwati, former Chief Justice of the Supreme Court of India said that the rights of the underprivileged people should be protected by the law and the Constitution. He was speaking during the seminar organized jointly by Ramakrishna Mission Vivekananda Memorial, Vadodara and Baroda Bar Association at Nyay Mandir Hall on 21 st June in the presence of a large number of dignitaries, lawyers and enlightened citizens of Vadodara including Shri Atul Vakil, the Principal District Judge, Vadodara and Dr. Ramesh Goyal, the Vice-Chancellor of the Maharaja Sayajirao University of Baroda.
Shri Kanak Tiwari, a senior Advocate of Chhatishgarh High Court pointed out special features and drawbacks of the Constitution of India. Earlier, swami
Nikhileswarananda, Secretary of Ramakrishna Mission Vivekananda Memorial, Vadodara welcomed the guests and the audience and introduced the speakers. He also requested the citizens present in the meeting to visit the Memorial bungalow sanctified by the stay of Swami Vivekananda in 1892 and to participate in the service activities being carried out by the Ashrama.