Swami Vivekananda – an Icon of Modern Youth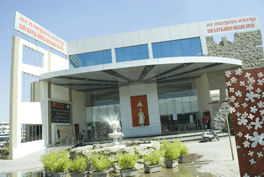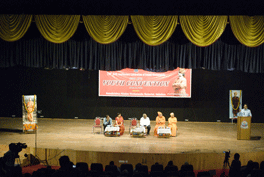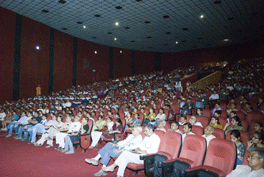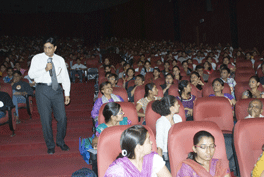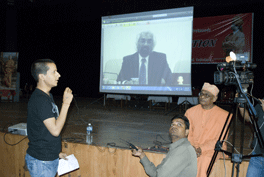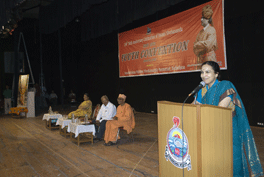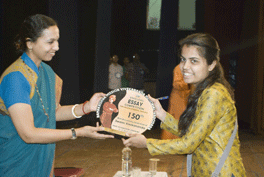 Swami Vivekananda should again become an icon of youth, that will solve not only the problems of modern youth, but of the nation also. This was the feeling generated during the State Level Youth Convention organized by Ramakrishna Mission, Vadodara on 24 th March from 9 a.m. to 5:30 p.m. in which about 1100 selected youths from all over Gujarat participated. As a prelude to this State Level Youth Convention, district level youth conventions were organized in various parts of Gujarat in which about 13,000 youths participated. Based on their feedback, selected youths were invited to participate in State Level Youth Convention. A State Level Essay Competition was organized for college students in which 1412 students participated; out of which 100 finalists were also invited to participate.
The Youth Convention was inaugurated by Prof. Yogesh Singh, Vice Chancellor, The Maharaja Sayajirao University of Baroda, who stressed on cultivating the spirit of patriotism and combining science and technology with Indian culture during his inspiring speech. Shri G. Narayana, the well-known Management Trainer gave the secret of developing leadership qualities among the youth. Shri Ajay Umat, Senior Editor of Times of India, said that Swami Vivekananda will remain an icon of youth forever citing his own example. He told that when he was a student, his father wrote on his note book the message of Swami Vivekananda – "Arise, awake and stop not till the goal is reached" and told him to read the books of Swami Vivekananda. By following his advice, he progressed much in his life.
Prof. N. Ravichandran, Director IIM, Indore said that the message of Swami Vivekananda is very relevant for the modern youth, hence IIM Indore, celebrates the National Youth Day every year ( Swami Vivekananda's birth day ) in a befitting manner. He also gave the panchsheel for success based on Swami Vivekananda's teachings.
Dr. Jitendra Adhia, well known Mind-Trainer urged upon the youth to use the untapped mind power for achieving success like Swami Vivekananda and gave a practical demonstration of the power of sub-conscious mind.
Swami Sarvasthananda, Adhyaksha, Sri Ramakrishna Ashrama, Rajkot pointed out the importance of spiritual power for the youth based on Swami Vivekananda's message of potential divinity.
After the lunch interval, a portion of the popular animated film "Veer Narendra Vivekananda" was screened.
Shri Sam Pitroda, Chairperson, National Knowledge Commission could not come due to his prior engagements but during the Video Conferencing, he delivered an inspiring speech and gave pointed and prompt replies to the questions of the youths. During the question – answer session, he said that our priority should not be to become super power but to feed the hungry people of the country who are below poverty line. He urged upon the youths to follow the simple life style of Swami Vivekananda and Mahatma Gandhi and not to become a prey of consumerism. He said that the model of development of America is based on consumerist culture. We should not imitate that model; we should follow our own model of development based on our culture, based on the teachings of Swami Vivekananda and Mahatma Gandhi, so that other countries like South Africa should also follow our model rather than USA model. He said that his immediate concern was not advancing in technology but to see that the benefits of the modern technology reach the grass root level. He advised the modern youth to give more importance to action rather than academic discussions, quoting Swami Vivekananda's name and said that they should clean the garbage next door rather than worrying about what is happening in Delhi. He appreciated the efforts of Kutch University of starting 'Eklavya Virtual class room scheme' and the resolve of some students to bring 100 % female literacy in Vadodara district and said that he will be ready to extend support for such noble activities. He also appreciated the efforts of Ramakrishna Mission of inspiring the youth in such a large number across the state.
In the concluding session, Smt. Jayanti Ravi, I.A.S., Commissioner of Higher Education, Gujarat, gave details of the transformation being brought about in the educational system of Gujarat and promised her whole hearted support for introducing 'Vivekananda Centres of Positive Thinking and Counselling' in all the colleges of the Government.
Shri Bhagyesh Jha, I.A.S., Secretary, Department of Youth, Sports and Cultural affairs said that the Government of Gujarat has declared this year as the 'Youth Year' because Swami Vivekananda is the icon of the youth and this will be the best tribute to Swami Vivekananda on the occasion of his 150 th birthday. His speech consisted of poems and jokes and entertained the youth.
Prizes were distributed to three toppers of State Level Essay Competition held for college students. A special award was given to a blind girl who had participated and had written a good essay on "The problem of Modern India and Swami Vivekananda" with the help of a writer.
Swami Nikhileswarananda, the Head of the Vadodara Centre thanked all the speakers, the Heads of the institutions and dignitaries, representatives of Press and media and the students who had participated with so much of enthusiasm.
After the national anthem, all the participants were gifted books and photographs of Swami Vivekananda. In their feedback form, the youths expressed that it was a wonderful experience for them. Some of them said it was a life time experience for them. Some of them promised to carry out some social work as a part of the follow-up programme.
Shri Narendra Modi, Honorable Chief Minister of Gujarat, could not come personally but sent a message of appreciation and best wishes.